India is one of the most fascinating countries in the world. With its rich history, ancient temples, and unique culture, it's a wonder why more people don't visit this special place. To help you out with your India travel plans, we've compiled the 10 most famous temples to visit in India. The following list contains some of the oldest and most revered temples in the country, each with its own interesting story to tell about how it came to be and why it's so special to millions of Indians today.
Khajuraho Temple, Madhya Pradesh
Probably one of India's most famous temples, Khajuraho is known for its explicit erotic sculptures. Built by Chandela Rajput kings during 9th-12th centuries, there are around 85 temples here; each with exquisite sculptures and carvings. The Kandariya Mahadeva Temple is considered a masterpiece and even Unesco has recognized it as a World Heritage Site. This temple is mostly devoted to Shiva but houses images of Vishnu, Surya and others as well.
Jagannath Temple, Odisha
Jagannath Temple is located in Puri, Odisha. It is a temple dedicated to Lord Jagannath, his brother Balabhadra and sister Subhadra. All three are believed to be manifestations of Lord Vishnu himself.
Konark Sun Temple, Odisha
A work of architectural genius that blends perfectly with its natural surroundings, Konark Sun Temple is possibly one of Orissa's best-known structures. Built by King Narasimhadeva I in 1250 CE and dedicated to Surya (the sun god), it has walls lined with slabs depicting thousands of Hindu deities; these are visible only at low tide when water from nearby river Chandrabhaga exposes parts of an architectural wonder.
Birla Mandir, Delhi
Birla Mandir is one of Delhi's most famous temples, located in east Delhi. It is dedicated to Lord Vishnu and attracts a lot of devotees, especially on weekends. The temple was constructed by Birlas, who are also its trustees.
Mahabalipuram Temple, Tamil Nadu
The Mahabalipuram Temple lies at Mahabalipuram, a town near Chennai. The Pallava style temple was constructed by Narasimhavarman I around 600 AD. It is dedicated to Lord Vishnu, who sits in Vaikuntha (the heavenly realm) surrounded by his consort and devotees. The most famous part of Mahabalipuram Temple is an unfinished monolithic rock sculpture called Arjuna's Penance or Descent of Ganga.
Brihadeeswarar Temple, Tamil Nadu
Brihadeeswarar Temple is one of south India's most popular temples and a top attraction for travellers to Tamil Nadu. The temple, dedicated to Lord Shiva, is located in Thanjavur, 300km from Chennai.
Gaya Temple Complex, Bihar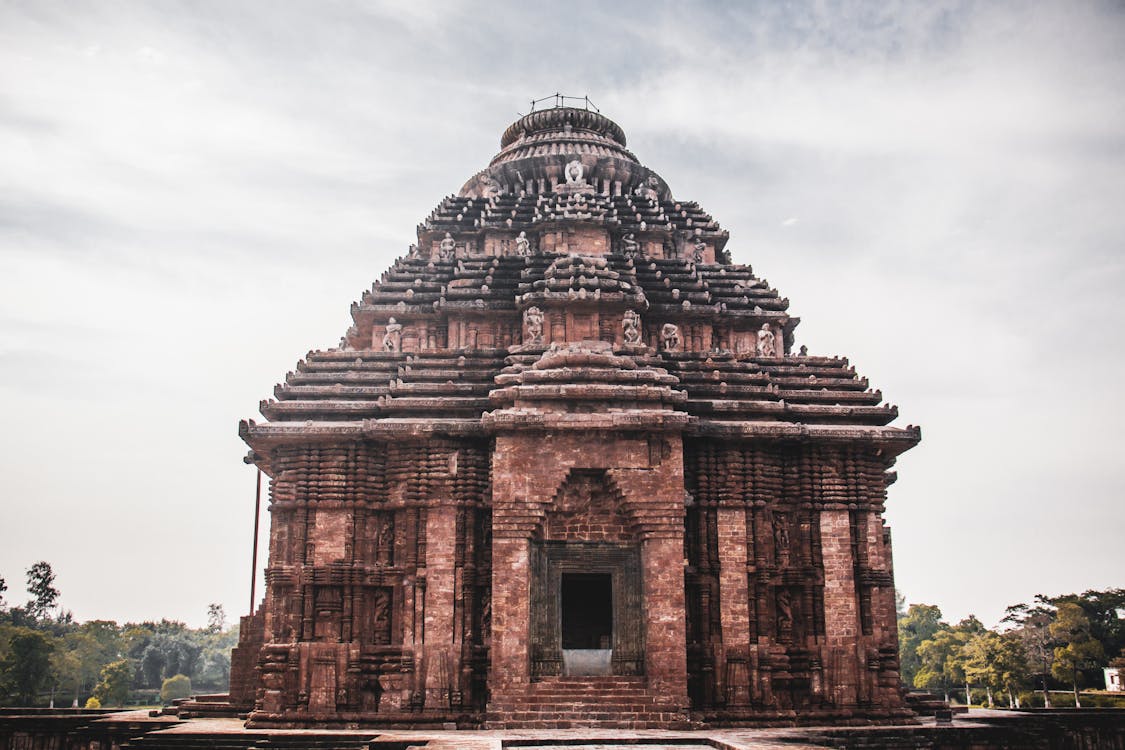 Considered to be one of 12 Jyotirlingas or abodes of Lord Shiva, Gaya is a pilgrim center that attracts millions of devotees each year. It is also called an 'ashtadhatu' kshetra, meaning it has eight specialties like ghee, milk etc.
Sri Ranganathaswamy Temple (Sri Ranganathaswamy Dargah), Karnataka
Sri Ranganathaswamy Temple is a Hindu temple located at Srirangam, Tiruchirappalli, Tamil Nadu. Sri Ranganathaswamy Temple is dedicated to Lord Vishnu and is named after Ranganatha, one of his ten avatars. The temple has massive structure built by Medieval Cholas of 9th century CE and 12th century CE which are listed as UNESCO World Heritage Site along with other monuments nearby.
Guruvayoor Temple, Kerala
Guruvayoor is a renowned Hindu temple and pilgrimage center dedicated to Lord Krishna. A remarkable feature of Guruvayoor Temple is that it houses idols of several Gods and Goddesses along with Lord Krishna.
Tirumala Venkateswara Temple, Andhra Pradesh
Known as one of Ashtabhoomi or the eight abodes of Vishnu and is also referred to as Temple of Tirupati, Tirumala Venkateswara Temple is located atop Tirumala Hills which measure 853 meters above sea level. The temple is dedicated to Lord Venkateswara who, according to Hinduism, rides a golden vehicle known as Garuda.